About myself
Making music and singing have been my companions for a long time. Since about 1993 I have focused my musical interest completely on traditional German songs. To collect and to sing them and to archive the contents of over 5000 song books has become central to my life. This website has made it possible to share all of this work with the rest of the world and to make accessible over 381,000 songs and diverse musical compositions in the archive.
Here in Canada singing our German songs has become a tradition to me and my singing groups made up of German immigrants. We meet once a month to refresh our souls and to feel the uniting energy of our songs.
By singing the songs of our heritage we are suddenly very close again to Germany because there the songs have their deep roots. Through the common bond of language the homeland speaks to us again through our songs. We feel united again with our land and ourselves through our songs.
After a varied career in television broadcasting, photography and extensive world travels I now concentrate all my energies and resources on archiving and recording activities.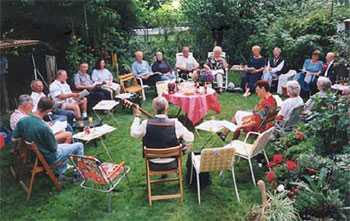 One of the German singing groups in Canada
I find it a good omen that our singing tradition - including our vast folksong treasure - has significance to many young people in Germany today. In large and small groups they are a continuation of the German Youth Movement from the beginning of the 20th Century. Singing is central to them and some of the most beautiful new songs are created from their own experiences as they encounter adventure in nature on their many yearly travels near and far. These are living folk songs in our own time! They still call themselves `Wandervögel' - that magical word of Romantic longing that was the impetus to the German Youth Movement. They, together with pathfinders (German boy scouts) and similar groups, are the hope for the survival of our folksong heritage and spontaneous group singing in Germany today. Singing for its own sake - not for performances or commercial interest - no, just for the sheer joy of it!
Hubertus Schendel